Our Bee Trapping & Hive Removal Service
Bees are important because they pollinate the flowers of many plant species. Furthermore, bees only attack people when their territory is threatened. The problem is these stings are painful and can be deadly if the person being stung is allergic and goes into anaphylaxis shock. So if you have bees or hives on your property, you'll want to get rid of them as soon as possible! Our team is trained to remove all types of bees, including Carpenter Bees plus we can pre-treat your home to prevent them from settling in the first place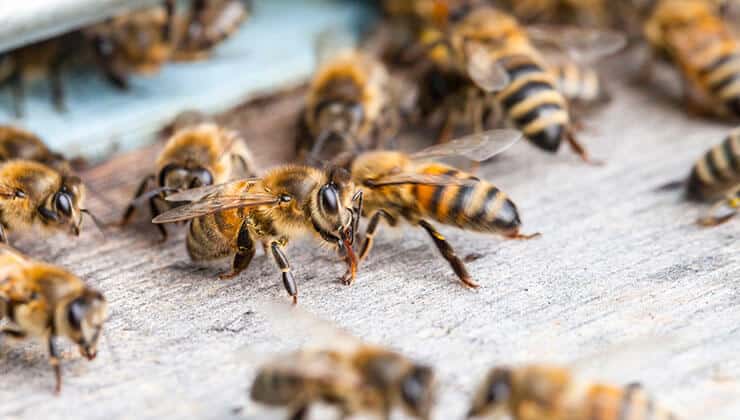 Our Unique Approach To Bee Removal
Calling a professional to help you get rid of bees is your best option, even if you're comfortable removing them on your own. Carpenter bees make nests in tricky spots in wood around the structure. Some areas are unseen and other hard-to-reach areas.
1. BEE INSPECTION
We'll survey the property the ground, grass clumps, and structures on your property to locate each nest and identify the bee species. This step allows us to properly treat and remove the nests we find during our inspection.
2. LIQUID BEE TREATMENT
We have many treatment styles. One great liquid spray is designed to prevent nesting around and in the home.
3. DUSTING BEE TREATMENT
Our job is to fully inspect your property. Injections into the hive's opening ensured everything inside is exterminated, including larvae and immature bees. We'll also use injections around the top of the hive to prevent bees from coming out of other locations.
4. BEE EXCLUSION WORK
We can seal all the holes and entrances with plugs, cork, putty, or a caulking compound. We can also quote to pest proof your home from invaders.
Why Choose Pest EZ
We're passionate about helping people just like you get rid of unwanted pest problems. As such, we are proud to be the only pest control company in Ann Arbor promising excellence in value,service, and trust.
VALUE
After your pest inspection, we'll provide you with a quote that makes sense for your budget and unique needs.
SERVICE
We're not happy unless you are. So if you're not satisfied with your most recent service, we'll make it right.
TRUST
We know you are putting a lot of trust in our hands. So we promise to treat you and your home with respect.
Frequently Asked Questions
Technically yes, but it's not something we recommend because when a nest is threatened, bees often attack in swarms. If you insist on removing a nest on your own, we recommend that you follow standard safety procedures, use a bee suit, and proceed with caution.
Yes! You will see foraging bees return to their nest which is no longer there. They may be irritated, so we recommend staying away from the recently treated area until they're no longer present.
Bees leave behind a scent that attracts other bees to the area. The team at Pest EZ can handle this entire process for you from start to finish. To schedule your bee removal service, please call
To get your bee concern under control, a proper inspection is your very first step. This allows us to design a unique program for your specific situation. So please give us a call at 734-802-1234 to schedule your inspection. Our team is thoroughly trained in detecting breeding areas and will keep these pests where they belong: out of your business and home. Pest EZ Pest & Wildlife Services can help!